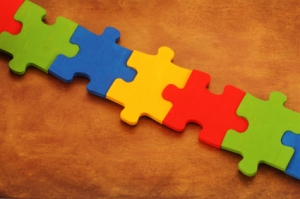 Neuroscience, Rhythm, and Autism
CMTE Credits:
5
Course Instructors:
Michelle Hardy
, MM, MT-BC &
A.
Blythe LaGasse
, Ph.D., MT-BC
Date:
Self-led course, complete within 90 days of purchase.
Time:
254 Minutes
Location:
Online/Self Study
Course Cost:
$65.00 – Discounted price. Although we feel the information is still relevant, this course will be retired 6/18. All CMTE credits must be claimed by that 5/31/18.
Prerequisites:
None
Online Course Description
Current research indicates that children with Autism Spectrum Disorder have neurological differences that may underlie core characteristics.
We will review the neurological evidence in ASD and discuss implications in clinical practice.
Video clips illustrate nonmusical and music therapy exercises as a preparatory accommodation for children with ASD. The use of these exercises is discussed in terms of how they may impact cognitive, sensorimotor, or speech tasks.
Course participants will be able to:
Identify cortical differences that have been found in autism and how these differences would impact functioning (CBMT Scope of Practice I.C.2.a & IV.A.2)

Translate research findings into appropriate clinical applications that facilitate client need areas (CBMT Scope of Practice I.C.10 & II.A.3.f)

Identify at least two techniques for regulating the sensorimotor system in persons with ASD. (CBMT Scope of Practice I.A.5)
Neuroscience, Rhythm, and Autism
Want more info? Download the full online course information sheet!
"The CMTE course, Neuroscience, Rhythm, and Autism, is a fantastic resource that every music therapist helping persons with autism, should learn from.  Hardy and LaGasse are excellent therapists of the highest caliber.  They provide a strong understanding and basis for their knowledge in literature, extensive clinical experience, coalescing into a clearly explained rationale for their methods.  They are deeply rooted in evidence-based practice, which helps provide confidence for the advice and insight they share in this course.  They reveal a very fresh look at autism that has completely transformed and altered how I practice and interact with my clients with autism, and has done so for the better.  I highly recommend taking this course!"
"Ever since I completed the Neuro, Rhythm and Autism course, I was mentally pinching myself for taking so long to finally take this class! i could have saved so much time and effort on my side, and tears and tantrums on my little clients' sides if i knew those simple but extremely powerful techniques that are taught in this course! They transform my sessions so much, i feel empowered by them, more confident, even with my own child (who has no SN). Thank you! Summit Music Therapy and instructors for this wonderful course!"